Earlier today Matt Kalman tweeted a quote of Don Sweeney from his press conference after having fired the all time winningest coach in the history of one of the oldest franchisees in the NHL.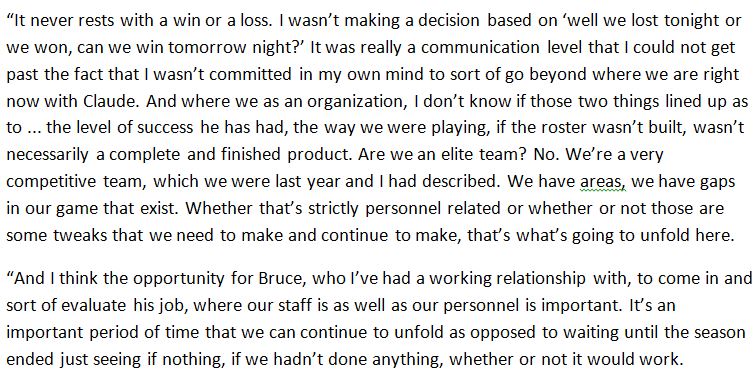 There's numerous possible translations of this nearly coherent, almost cogent sting of words.
Option A:
Claude Julien wasn't my guy. I decided to put someone I'm more likely to sit down and have a beer with in place.
Option B:
I went to Harvard. What's happening now is irrelevant because I'm smart enough to see the path forward and because I went to Harvard, I'm completely capable of dragging this franchise in the direction I want it to go regardless of what everyone else who didn't go to Harvard thinks.
Option C:
Julien refused to give into my wanting to help him make every decision from what color socks to where in the morning to who gets played each night and each shift, and the food on the plane. Cassidy on the other hand proved he's a good lapdog when he was in Providence and I promised him then if he kept licking my hand just right I'd get him back to the NHL even though his previous stint in the big times was about Steve Kasper worthy.
Option D:
If Julien was half as good as he thinks he is, he'd be able to turn any collection of players into an NHL playoff appearance. Clearly his reputation is over blow, and since I played far more time in the NHL than he ever did, I know the game better than him and he's not using the high quality assets I've assigned him to their fullest.